Conscious Choices
Professional Counseling for Professionals
There are times when we all need someone to talk to: about reconnecting with others, about personal concerns or decisions, about our most important relationships, about our careers, or about life in general. Having a professional who leads with empathy can make all the difference. Many couples and families find themselves at an impasse around issues of finances, parenting, communication, and more. Finding the right person to talk to can help you work through these issues in a healthy and productive way. Through the use of Emotionally Focused Therapy that empowers clients to reflect on and take control over their own emotions and behaviors, licensed Family and Marriage Therapist Roberta Moore helps her clients make sense of complex challenges that affect relationships at all levels and find a healthy, happy path forward. Her application of Systems Theory – the idea that if one member of a couple, family, or other interconnected group has an issue to address, it affects everyone in that group – allows individuals, couples, and families to unravel challenging dynamics and build productive relationships that promote growth.

Empathetic Approach
Hear and be heard with mutual respect and caring

Focused on Growth
Embracing a professional approach to counseling and improvement

Accessible to All
Dedicated to serving a beautifully diverse community
Relationship challenges impact all areas of life, from home to work and back. Roberta has successfully helped hundreds of individuals, couples, and families better manage interpersonal relationships and move to a place of happiness and greater satisfaction.
By encouraging people to stretch past discomfort and embrace a more empathetic approach, Roberta helps reconnect and reestablish relationships that empower everyone to feel heard and understood. Her clients learn to explore and develop their emotional intelligence skills, which helps them develop better tools for communication and navigating complicated relationships. The transformation that occurs within the EQ-i approach empowers Roberta's clients to lead happier, more successful and well-adjusted lives.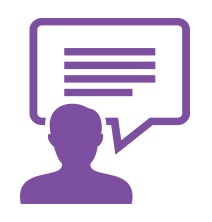 What Roberta's Clients Say
"It is with appreciation and gratitude that I want to thank you! Your generosity and skillful help put me on the road to self-discovery."
"I met you during a difficult moment in my life and you helped give me perspective, open my horizons and give me a better sense of the issues that arose. I'm a different person now and feel freer, more self-reliant, closer to my family and my wife and more in tune with my surroundings."
"Your caring, love and concern have really meant a lot over the last couple years. Your professional abilities really helped me to get started working through my stuff. You've been my "rock" in a very difficult time in my life."
"I want to thank you for being the caring human being that you are and I feel you are truly gifted as a healer. I would highly recommend anyone to talk to you in a time of need or simply for reassurance to see life's possibilities."
"Thank you for your continued support and guidance. I am proud of my progress and feel blessed to have found you."
"So happy you are a part of our lives. We are blessed. Thank you."
"Thank you so much for walking with me during that rugged passage. I am processing all my inner stuff. I love you and am grateful to you."
"You, BY FAR, are the best therapist I have ever talked to. I am lucky to have found you. I always, always think of our conversations. Roberta, you are an excellent teacher and someone to look up to."