Session Information
Professional Counseling for Professionals.
Whether you're an individual or a couple, Conscious Choices clients benefit from an extra layer of discovery when working with Roberta. All clients begin their therapy journey with an initial Emotional Intelligence (EQ) assessment. Building from this EQ foundation adds another layer of perspective to your therapy, enabling both you and Roberta to pinpoint your strengths and weaknesses and define exactly what you need to grow and thrive. In turn, this personalized path makes sessions more effective and helps you progress through the therapeutic process more quickly. These initial conversations become the foundation for your healing, learning, and improving from day one. Clients can expect the following as they begin their work with Roberta:
An initial, 50-minute session with Roberta. In this session, you and Roberta will get to know one another and ensure that you both feel positive about the work you'll accomplish together
After this initial session, Roberta will send you an EQ Assessment that you will complete online prior to your next session
Once you've completed the assessment, we will schedule a second, 90-minute session to go over the results of your assessment and discuss how those results will inform your work moving forward
Roberta will then make a personalized recommendation for the length and frequency of your sessions, based on your personal goals as well as the insights gained from your EQ assessment
While this approach is different from other therapy onboarding practices, the benefits to leveraging the in-depth EQ assessment and the resulting sessions that stem from its results are endless. From a deep understanding of where you're starting to the ability to create a specific roadmap detailing how to get you where you want to be, your therapy experience is immediately productive and promising. Costs for that 90-minute session/EQ assessment debrief are $375 for individuals and $555 for couples. Investment for all other session options below:
Clients are usually seen initially once per week or twice a month. By employing a variety of techniques to create a personalized path for each client, Roberta builds a solid foundation of support that allows clients to address the issues most pressing and important to them. Learn more about Roberta here.
Need help determining who is the right therapist for you? Download our Guide to Finding A Therapist for expert guidance on finding the right match.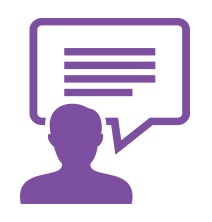 What Roberta's Clients Say
"It is with appreciation and gratitude that I want to thank you! Your generosity and skillful help put me on the road to self-discovery."
"I met you during a difficult moment in my life and you helped give me perspective, open my horizons and give me a better sense of the issues that arose. I'm a different person now and feel freer, more self-reliant, closer to my family and my wife and more in tune with my surroundings."
"Your caring, love and concern have really meant a lot over the last couple years. Your professional abilities really helped me to get started working through my stuff. You've been my "rock" in a very difficult time in my life."
"I want to thank you for being the caring human being that you are and I feel you are truly gifted as a healer. I would highly recommend anyone to talk to you in a time of need or simply for reassurance to see life's possibilities."
"Thank you for your continued support and guidance. I am proud of my progress and feel blessed to have found you."
"So happy you are a part of our lives. We are blessed. Thank you."
"Thank you so much for walking with me during that rugged passage. I am processing all my inner stuff. I love you and am grateful to you."
"You, BY FAR, are the best therapist I have ever talked to. I am lucky to have found you. I always, always think of our conversations. Roberta, you are an excellent teacher and someone to look up to."