Individual Therapy
Professional Counseling for Professionals
At the individual level, there are many issues that can be addressed through counseling. Do you ever find that you:
Have trouble thriving in new or unfamiliar situations?
Are unsure why things have to be so difficult?
Struggle to maintain healthy, productive relationships?
Can't seem to move past things that happened months or even years ago?
Have trouble seeing things from the perspective of another person?
Are plagued by negative thoughts, moods, and emotions?
Have trouble sleeping because of anxiety?
Wish you could wave a magic wand and have a different life?
Spend more time worrying than you would like?
Harbor resentment or troublesome thoughts that you can't share?
Feel stuck in your current situation?
The ultimate goal of individual therapy is to address any issues that are keeping you from living a life that is happy and healthy. This will look different for every individual, but working with an experienced therapist and emotional intelligence expert like Roberta Moore can help you identify what is keeping you from emotional health and develop strategies for moving toward greater wellness.
The benefits of individual therapy are far-reaching. As we find resolution and become more mentally and emotionally healthy as individuals, all of our relationships improve – from family to the workplace.
By speaking to a compassionate and trained professional, you can begin to discover new ways of seeing things and learn new techniques for bringing about the changes you wish to make. We will work together, at a pace that is comfortable to you, to help you achieve greater happiness and satisfaction.
See more resources for individual therapy.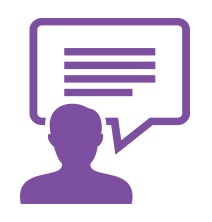 What Roberta's Clients Say
"It is with appreciation and gratitude that I want to thank you! Your generosity and skillful help put me on the road to self-discovery."
"I met you during a difficult moment in my life and you helped give me perspective, open my horizons and give me a better sense of the issues that arose. I'm a different person now and feel freer, more self-reliant, closer to my family and my wife and more in tune with my surroundings."
"Your caring, love and concern have really meant a lot over the last couple years. Your professional abilities really helped me to get started working through my stuff. You've been my "rock" in a very difficult time in my life."
"I want to thank you for being the caring human being that you are and I feel you are truly gifted as a healer. I would highly recommend anyone to talk to you in a time of need or simply for reassurance to see life's possibilities."
"Thank you for your continued support and guidance. I am proud of my progress and feel blessed to have found you."
"So happy you are a part of our lives. We are blessed. Thank you."
"Thank you so much for walking with me during that rugged passage. I am processing all my inner stuff. I love you and am grateful to you."
"You, BY FAR, are the best therapist I have ever talked to. I am lucky to have found you. I always, always think of our conversations. Roberta, you are an excellent teacher and someone to look up to."