Expertise
Professional Counseling for Professionals
Solutions-Focused Therapy
Have you ever felt stuck and unable to find a resolution? Perhaps your challenge is with a teammate, family member, or partner. It may even be an issue you have with your past that is disrupting your present and putting your future in jeopardy.
When people have a problem they want to overcome, they need support. By making use of interventions and techniques from Cognitive Behavioral Therapy, Emotionally Focused Therapy, and Jungian Psychology, Roberta helps people facing a variety of challenges to experience lasting and real change in their lives and relationships. Roberta's expertise in and use of Emotionally Focused Therapy empowers her clients to directly address the habits, behaviors, and thought patterns that may hold them back from living their most fulfilled lives. By helping clients build the skills they need to change both their thinking and their behavior, Roberta helps them reclaim control over negative patterns and replace them with healthier ones.
Because this type of therapy focuses on fundamentally improving an individual's thought patterns and behaviors, its benefits often last after therapy has ended.
Integrated Systems Theory
Human relationships are complicated. Systems Theory acknowledges the truth that we are all interconnected, and that if one person in a group (family, team, partnership) is struggling, there are implications for everyone. Roberta's use of Systems Theory allows her clients to approach their challenges from an empathetic and well-rounded position in order to improve interpersonal relationships and build better communication skills. She creates a safe environment for individuals, families, and couples to discuss and address the health of interconnected relationships and seek ways that they can function better.
Through this approach, Roberta gives her clients the tools to begin to unravel the causes of both inner and outer conflict. When guided with purpose and expertise, individuals begin to see the ripple effects of their personal inner growth and healing as they improve their relationships with friends, family, and colleagues.
Emotional Intelligence Perspective
As a certified Emotional Intelligence (EQ) coach, Roberta offers an added layer of perspective and insight to help her clients address their challenges. Every Conscious Choices client begins their therapy journey with an EQ Assessment to help pinpoint their strengths and weaknesses in different emotional intelligence skills, such as empathy, assertiveness, self-actualization, problem solving, and more. This assessment not only helps clients gain a better understanding of their own challenges, it also provides Roberta with the insight to create a personalized therapy plan that helps clients reach their goals more quickly and effectively.
By layering in the enlightenment of emotional intelligence with her expertise in Emotionally Focused Therapy and use of Systems Theory, Roberta helps clients begin to develop specific, meaningful skills and techniques that lead to healthier habits, a more positive relationship with themselves, and greater understanding and satisfaction from interactions with others.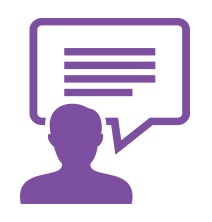 What Roberta's Clients Say
"It is with appreciation and gratitude that I want to thank you! Your generosity and skillful help put me on the road to self-discovery."
"I met you during a difficult moment in my life and you helped give me perspective, open my horizons and give me a better sense of the issues that arose. I'm a different person now and feel freer, more self-reliant, closer to my family and my wife and more in tune with my surroundings."
"Your caring, love and concern have really meant a lot over the last couple years. Your professional abilities really helped me to get started working through my stuff. You've been my "rock" in a very difficult time in my life."
"I want to thank you for being the caring human being that you are and I feel you are truly gifted as a healer. I would highly recommend anyone to talk to you in a time of need or simply for reassurance to see life's possibilities."
"Thank you for your continued support and guidance. I am proud of my progress and feel blessed to have found you."
"So happy you are a part of our lives. We are blessed. Thank you."
"Thank you so much for walking with me during that rugged passage. I am processing all my inner stuff. I love you and am grateful to you."
"You, BY FAR, are the best therapist I have ever talked to. I am lucky to have found you. I always, always think of our conversations. Roberta, you are an excellent teacher and someone to look up to."