Family Therapy
Professional Counseling for Professionals
Families are comprised of individuals, each of whom have their own unique perspective, history, and issues. Do any of these situations describe sources of tension for your family?
Is someone in the family ill?
Is a family member having emotional problems that affect the whole family?
Are you a parent who needs help getting your children to listen to you?
Is yours a "blended" family?
Are generational differences causing misunderstandings?
Have issues from your family of origin begun to creep into your new family?
Are there clear boundaries that are understood and honored by everyone?
Have issues gone unchecked for so long that they have taken up residence in the family structure?
Do you find that your interactions with family are tense or uncomfortable?
Have members of your family begun to distance themselves?
Has your family's home become a place you dread being or avoid?
Roberta's approach to family therapy is based on Systems Theory, which acknowledges that an entire family unit is affected if even one member is struggling or has a problem. Treatment that addresses systemic issues works best to create resolution, and Roberta can work with the whole family as well as groups and sub-groups such as parents, siblings, and children.
See more resources for Family Therapy.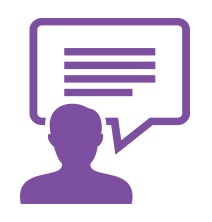 What Roberta's Clients Say
"It is with appreciation and gratitude that I want to thank you! Your generosity and skillful help put me on the road to self-discovery."
"I met you during a difficult moment in my life and you helped give me perspective, open my horizons and give me a better sense of the issues that arose. I'm a different person now and feel freer, more self-reliant, closer to my family and my wife and more in tune with my surroundings."
"Your caring, love and concern have really meant a lot over the last couple years. Your professional abilities really helped me to get started working through my stuff. You've been my "rock" in a very difficult time in my life."
"I want to thank you for being the caring human being that you are and I feel you are truly gifted as a healer. I would highly recommend anyone to talk to you in a time of need or simply for reassurance to see life's possibilities."
"Thank you for your continued support and guidance. I am proud of my progress and feel blessed to have found you."
"So happy you are a part of our lives. We are blessed. Thank you."
"Thank you so much for walking with me during that rugged passage. I am processing all my inner stuff. I love you and am grateful to you."
"You, BY FAR, are the best therapist I have ever talked to. I am lucky to have found you. I always, always think of our conversations. Roberta, you are an excellent teacher and someone to look up to."