COVID-19
Professional Counseling for Professionals
In the challenging times of the COVID-19 pandemic, we have seen new attention and focus on issues around mental health, emotional well-being, and therapy. Mainstream culture now understands that these issues are more important than ever, and we are happy to provide clients with the help they need to maintain mental and emotional wellness.
For the foreseeable future, we will be taking the following safety precautions for in-person sessions to protect all parties involved:
Face Masks: All parties are required to wear masks during in-person sessions. Roberta will wear a plastic face shield during sessions that will allow you to still see her facial expressions. If you require a mask, Roberta has some cloth masks at her office for clients to use. Additionally, clients may purchase clear plastic face shields (like the one Roberta wears) for $10 at their first session. Please bring your face shield to subsequent sessions for everyone's protection.
Virtual Sessions: Roberta has had special training in teletherapy and is happy to offer virtual sessions for clients who prefer them. For more information, call (828) 329-0431 or email roberta@consciouschoices.com.
We thank you for your cooperation in helping to keep everyone safe during these extraordinary times, and honor your commitment to staying well – both mentally and physically.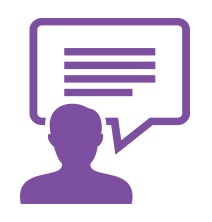 What Roberta's Clients Say
"It is with appreciation and gratitude that I want to thank you! Your generosity and skillful help put me on the road to self-discovery."
"I met you during a difficult moment in my life and you helped give me perspective, open my horizons and give me a better sense of the issues that arose. I'm a different person now and feel freer, more self-reliant, closer to my family and my wife and more in tune with my surroundings."
"Your caring, love and concern have really meant a lot over the last couple years. Your professional abilities really helped me to get started working through my stuff. You've been my "rock" in a very difficult time in my life."
"I want to thank you for being the caring human being that you are and I feel you are truly gifted as a healer. I would highly recommend anyone to talk to you in a time of need or simply for reassurance to see life's possibilities."
"Thank you for your continued support and guidance. I am proud of my progress and feel blessed to have found you."
"So happy you are a part of our lives. We are blessed. Thank you."
"Thank you so much for walking with me during that rugged passage. I am processing all my inner stuff. I love you and am grateful to you."
"You, BY FAR, are the best therapist I have ever talked to. I am lucky to have found you. I always, always think of our conversations. Roberta, you are an excellent teacher and someone to look up to."